Today, we're going to share with you the IoT based remote telecom site monitoring system, and in this article, you'll learn what is telecom site, what systems are telecom site consisted of? What is remote telecom site monitoring system, why we need it?
Let's get started.
What is Telecom Site?
Telecom site has played an important role is our daily life, not only for mobile phone subscribers, but also for IoT(internet of things), and IoV(Internet of Vehicles) applications.
A telecom site, cell site, or cellular base station is a cellular-enabled mobile device site where antennas and electronic communications equipment are placed—typically on a radio mast, tower, or other raised structure—to create a cell (or adjacent cells) in a cellular network.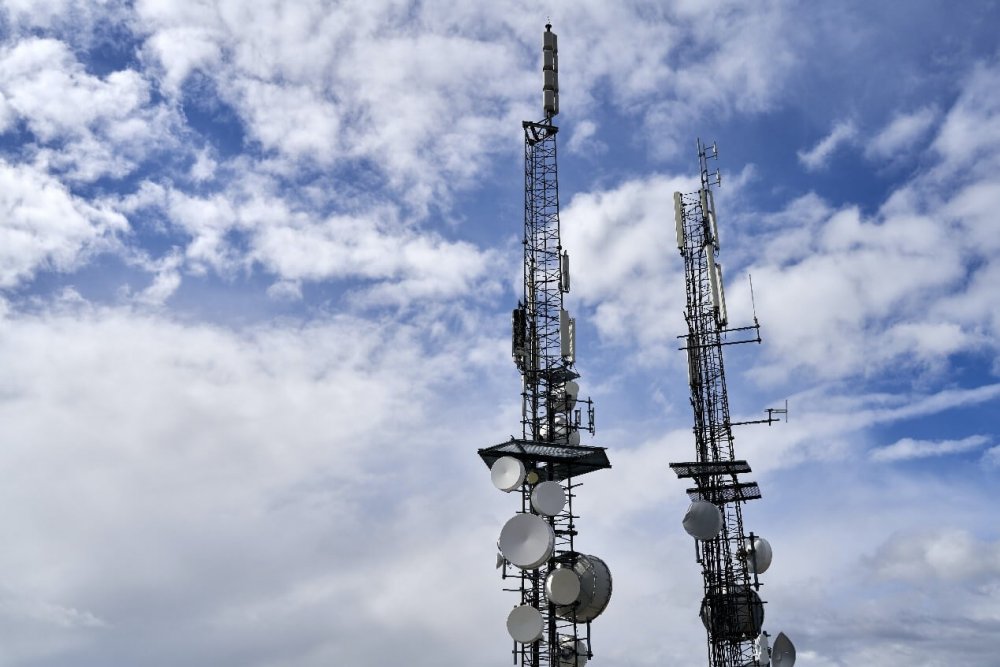 From Barnabas Davoti
Telecom site normally consists of below systems
A Physical structure where the antennas, cables and alarm light are attached, to transmit and receive signals, and send alarm light signals to airplanes.
As telecom sites could be built in urban and rural areas, rooftops of high buildings in the city, or mountain tops in remote areas, so the power source is different based on the environment, but normally, it consists of AC electrical power supply, and comes with a diesel generator and battery backup system (UPS, Uninterruptible Power Supply), while for some remote areas where the electricity power supply is hard to get, we can also use solar power, or wind power to generate electricity.
Below are some of the main power sources normally used onsite, while battery bank and generator are mainly for backup power system when AC electrical power is unavailable, or solar panel, and wind power is limited due to bad weather condition.
AC electricity power supply
Wind turbine
Batter bank
Generator
BTS-Base Transceiver Station
The back-haul transmission devices are installed in shelter room, to transmit, receive combine signals, process digital signals, etc.
Security and access control systems
As the telecom site facilities are expensive, which may target equipment, cooper, fuel theft or even terrorist attack, to reduce such risk, normally, an CCTV security, intrusion alarm system, and access control system (RFID) will be required.
HVAC Systems (Heating Ventilation Air Conditioning)
To make sure the field devices can work perfectly in certain environments, especially in remote areas where the weather changed days and seasons, there normally will have an HVAC system to make sure the transmission devices work perfectly.
What is Telecom Site Monitoring System? Why We need it?
A telecom site monitoring system utilizes IoT sensors, smart devices (5g/4g IoT gateways, or RTU), and a cloud IoT platform to remotely monitor and control the key systems and parameters mentioned above to help mobile operators to reduce operational costs and the risk of theft.
How IoT Empowers the Telecom Monitoring System?
As there are different types of sensors or devices with different protocols to monitor, an industrial IoT gateway with rich I/O and industrial protocols is required to combine the different data in certain protocols and transfer them to a remote cloud server. Normally, the IoT gateway will come with ethernet ports, digital input, analogy input, RS232, RS485, and relay output to acquire data and control the field devices, a diagram below.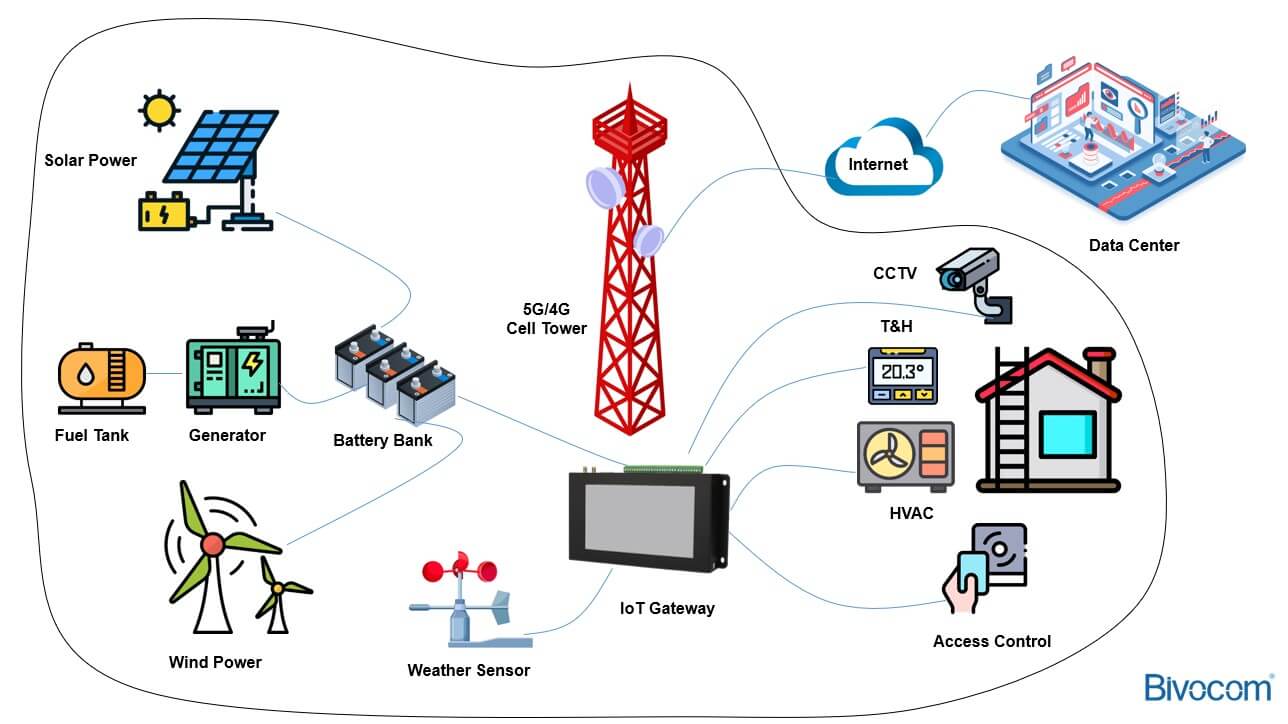 Below are some key systems and parameters to monitor
Energy Monitoring and Management
There will have an energy meter to monitor the power generation and consumption from generators, solar power, wind power, as well as consumption from electric power. In addition, it's also used to monitor the health of the battery bank backup system.
Diesel Generator and Fuel Tank Monitoring
A generator is used to generate electricity to supply power for the telecom sites, so it's important to remotely monitor its operation status, and provide predictive maintenance to reduce downtime and improve maintenance efficiency. Besides, the real-time level of the fuel tank monitor will help the operator to deliver the fuel in time.
Weather status will affect the operation of telecom sites too, such as temperature, humidity, or natural disasters(flood), so it requires IoT sensors to remotely monitor the real-time environment and send alarms to the data center.
Security and Access Control
CCTV surveillance can be used to send real-time video streams to the data centre, together with intrusion alarm systems will help to reduce theft, while access control is good for authorizing operators to access telecom sites and maintain the equipment.
Conclusion
With the fast and massive deployment of 5G, we can see mobile operators will need the telecom site monitoring system to help them remotely monitor and control their field devices, reduce operational costs and the risk of theft.
Image sources:
<a href="https://www.flaticon.com/free-icons/tank" title="tank icons">Tank icons created by itim2101 – Flaticon</a>
<a href="https://www.flaticon.com/free-icons/generator" title="generator icons">Generator icons created by smalllikeart – Flaticon</a>
<a href="https://www.flaticon.com/free-icons/solar-energy" title="solar energy icons">Solar energy icons created by Good Ware – Flaticon</a>
<a href="https://www.flaticon.com/free-icons/wind-turbine" title="wind turbine icons">Wind turbine icons created by Triangle Squad – Flaticon</a>
<a href="https://www.flaticon.com/free-icons/cctv" title="cctv icons">Cctv icons created by ultimatearm – Flaticon</a>
<a href="https://www.flaticon.com/free-icons/rfid" title="rfid icons">Rfid icons created by Freepik – Flaticon</a>
<a href="https://www.flaticon.com/free-icons/stairs" title="stairs icons">Stairs icons created by catkuro – Flaticon</a>
<a href="https://www.flaticon.com/free-icons/temperature-control" title="temperature control icons">Temperature control icons created by Good Ware – Flaticon</a>