Background
Currently, difficulties in making appointments, locating departments, long waiting times for payment, and extended waiting times for medical treatment have become bottlenecks that hinder the improvement of healthcare service quality, the enhancement of citizens' medical experience, and the resolution of difficulties in seeking medical treatment.
Therefore, optimizing the medical service and promoting convenient services are the primary tasks for hospitals to improve their service levels.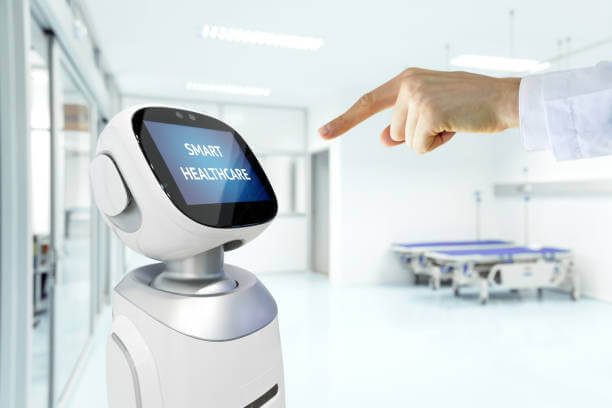 Pain Point Analysis
Lack of unified information standards
Due to geographical limitations and significant variations in the development of cities at different levels, there is an imbalance in healthcare infrastructure, and the level of informatization in hospitals varies. leads to the inability to establish unified information standards.
Limited extent of informatization
Most of the internal information systems in hospitals are focused on billing systems, electronic medical record systems, and drug management systems. However, the level of informatization in data management systems and knowledge information systems is relatively low. The degree of resource sharing is poor, and it fails to achieve business synergy.
Lack of communication of hospital information
There is a low level of interconnectivity among hospital information systems, with each department operating independently without functional relevance or information sharing, resulting in disjointed business processes.
System Solution
The Bivocom smart hospital guidance robot solution utilizes 5G+AI video gateway TG463 and connects it with various sensing devices such as RFID sensor, LIDAR, GIS positioning, ultrasonic sensors, card readers, laser barcode sensors, high-definition cameras, and image recognition. Communication protocols are used for protocol conversion and communication, enabling intelligent guidance, smart navigation, facial recognition, human body sensing, multiple identity recognition modes, autonomous obstacle avoidance, etc. This effectively improves the service efficiency of hospitals, enhances the service environment, reduces the workload of nurses, mitigates doctor-patient conflicts, and enhances guidance efficiency. Additionally, this smart hospital guidance robot solution incorporates laser navigation technology, allowing the smart hospital guidance robot to accurately perceive its surroundings, achieving autonomous obstacle avoidance and path planning, thus achieving full automation of intelligent navigation.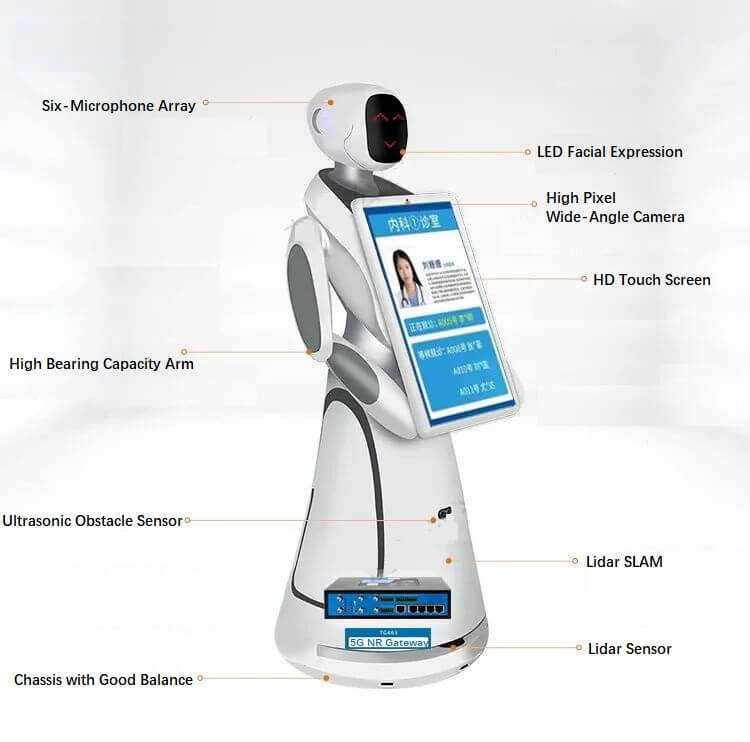 Product Recommendation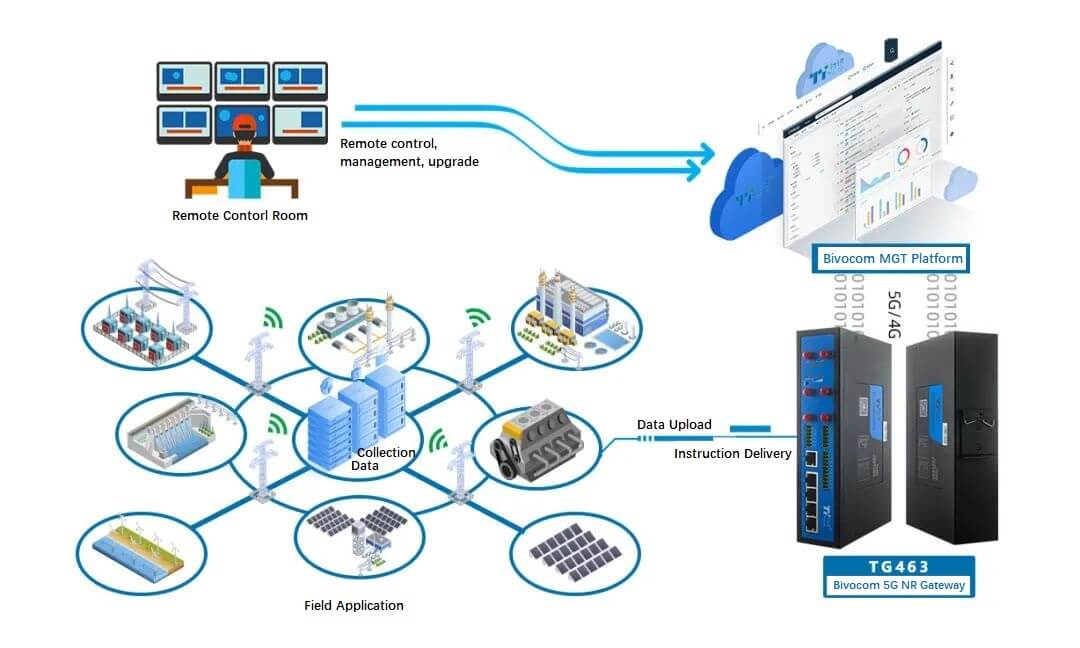 Product Functions
Intelligent Guidance
Using Bivocom 5G gateway TG463, medical robot can engage in voice interactions with patients, understand their needs, answer their questions, and verify their identities. This allows assist nurses in entering and confirming patient information.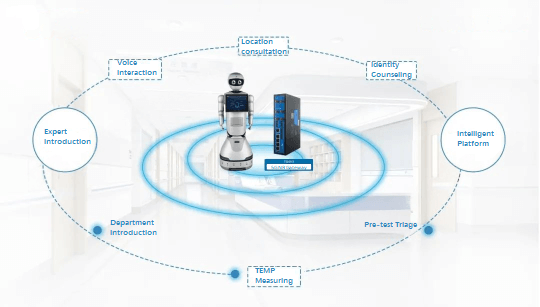 Smart Navigation
Through the connection of Bivocom 5G gateway and GIS maps, this solution can provide internal navigation within hospital. This system enables accurate route guidance through voice prompts or navigation instructions, leading patients to their desired locations. Furthermore, it can support QR code scanning according to patients' needs and provide mobile navigation guidance on smartphones.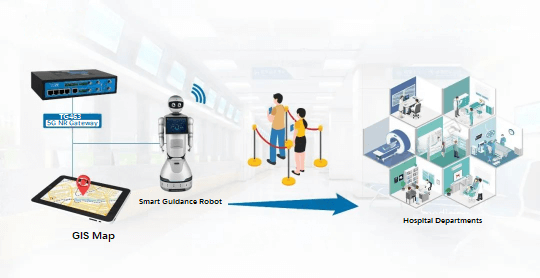 Facial Recognition
The Bivocom 5G AI video gateway is based on facial features and supports automatic face recognition, assisting nurses in patient information collection and data entry.
Autonomous Obstacle Avoidance
The Bivocom 5G AI video gateway supports the connection of ultrasonic sensors. Through detection, it automatically plans the path and identifies obstacles, utilizing obstacle avoidance algorithms to update the path in real-time, thereby achieving autonomous obstacle avoidance functionality.
Relevant article: