Background
With the construction of smart city, the smart waste management system is indispensable in the construction process. Currently, most cities emphasize garbage classification. And the smart waste management system can reduce the cost of waste process, so as to realize recycle of part resources and improve its economic value.
Therefore, Bivocom is devoted to a series of processes, like garbage classification, garbage disposal, and garbage collection. Using cutting-edge technologies like AI, cloud computing, wireless communication, etc., Bivocom independently developed edge computing gateway TG452 and applied it to smart waste management system. This system can intelligently recognize, analyze and warn against issues such as garbage misplacement, overflowing bins, broken bags, mistimed disposal, and inspector presence in real-time at garbage collection stations.
System Solution
Bivocom smart waste management system consists of sensing layer, network transmission layer, platform layer, and application layer.
The sensing layer involves connecting various sensors such as infrared, ultrasonic, smoke, temperature and humidity, odor, HD camera, GPS, LED scrolling screen to the Bivocom edge computing gateway TG452 to collect data from each garbage bin. In the meantime, the edge computing gateway TG452 enables full monitoring and management of the garbage bin through its built-in wireless communication function, allowing for intelligent monitoring, overflow detection, fire and explosion prevention, sterilization and disinfection, LED scrolling, and intelligent recycling functions. The collected data is transferred quickly and accurately to servers and monitoring platforms for staff to log in, manage, monitor in real-time, analyze data, manage system events, and personnel.
In case of abnormal situations such as overflowing, fire, or odor, the system will alert relevant personnel through messages, apps, phone call, etc., significantly reducing labor costs and environmental hygiene issues. Management personnel can remotely process the alarm information through APP or PC end.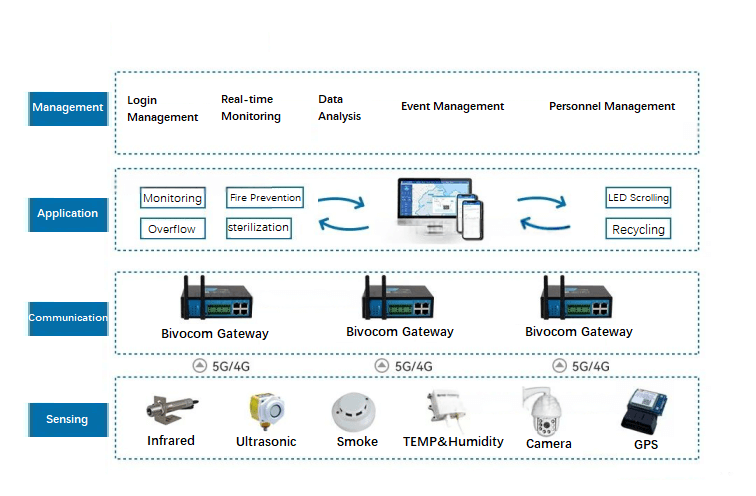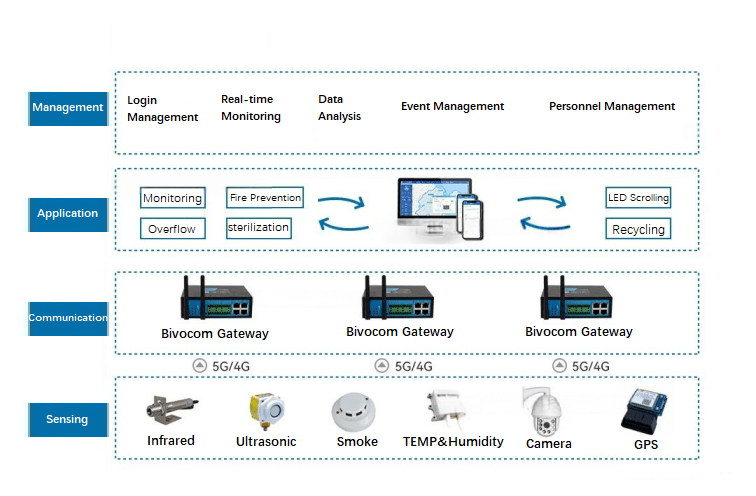 It is worth mentioning that the smart waste management system also supports intelligent recycling of various waste types such as paper, metal, plastic, and fabric. After the residents put the recyclable items into the garbage bin, the intelligent system will weigh and price them automatically.
Products Recommendation
As an industrial-grade wireless communication gateway, the Bivocom edge computing gateway TG452 uses ARM high-end processors, with modular functionality that can be customized and developed according to customer requirements. And its rich interface supports the access of sensing devices. Integration of 5G, 4G, NB-IoT, GPS, WIFI, wired, and other communication methods which enable rapid data upload and download, making it convenient for staff to monitor the real-time situation of smart garbage can.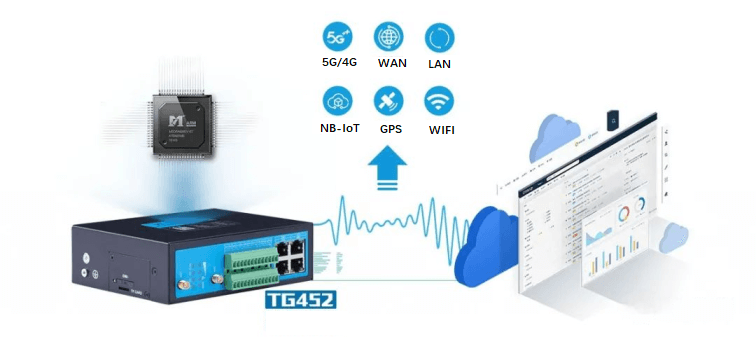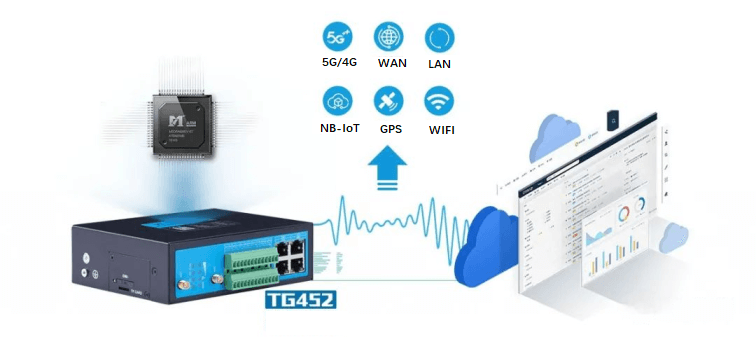 Additionally, the TG452 supports multi-center transmission, which synchronizes data from the smart waste management system to 12 centers, facilitating the integration of departmental, corporate, and social data resources, breaking down information island, and achieving multi-departmental linkage. It provides data support for cross-departmental, cross-level, and cross-regional data sharing and scientific decision-making.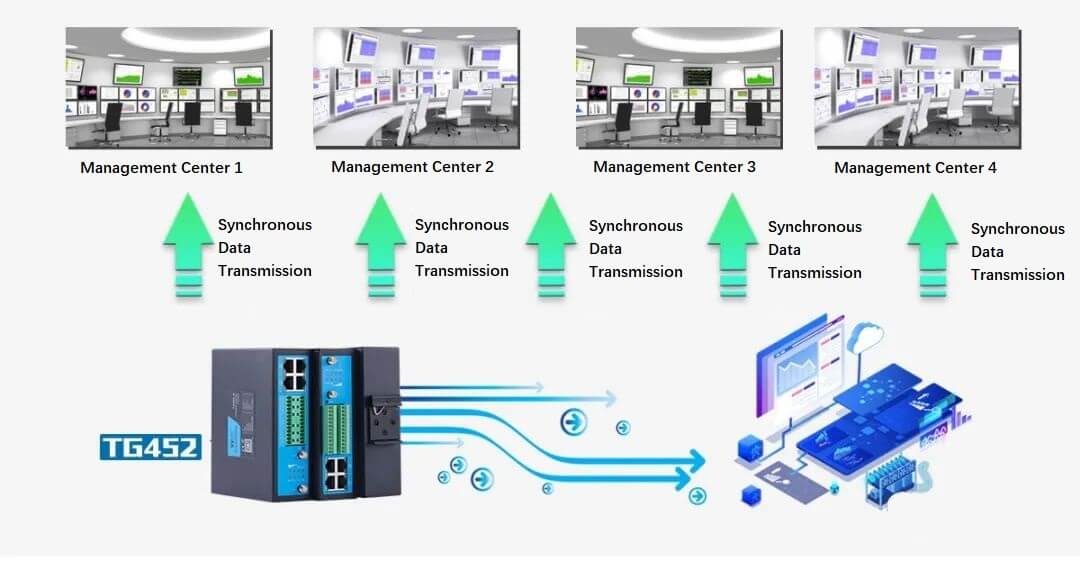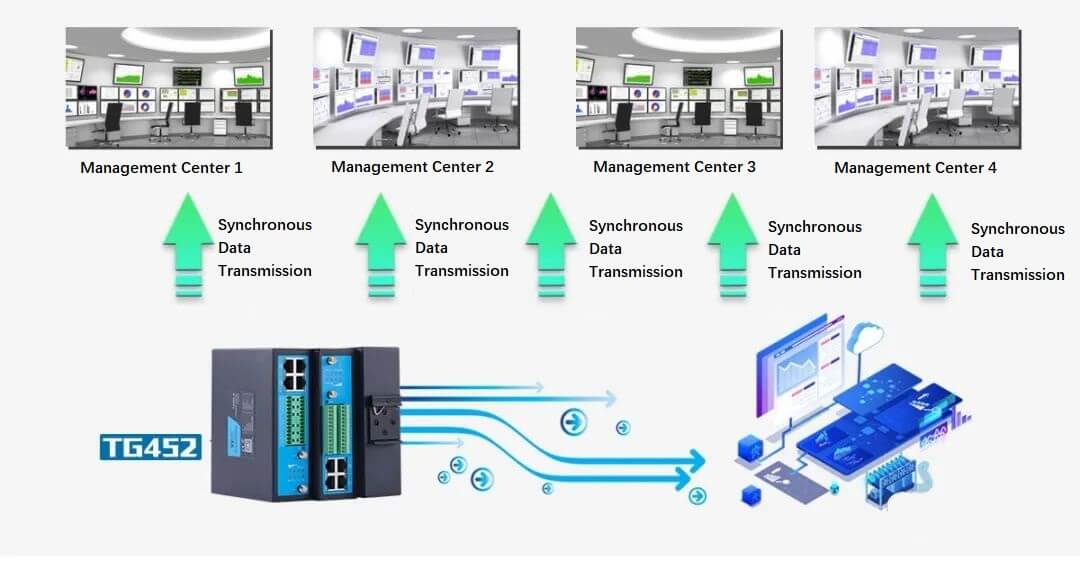 Products Functions
      1. Intelligent Monitoring
When the TG452 connecting with infrared sensors, the garbage bin cover can be opened automatically when residents approach, effectively preventing the spread of mosquito-borne diseases.
      2.  Overflow Alarms
When the fill level of garbage bin exceeds the set value, the TG452 can immediately report data to the monitoring platform and notify relevant personnel to handle the garbage to achieve rapid and timely processing.
     3. Fire and Explosion Prevention
The TG452 supports connecting with temperature and smoke sensors and regularly monitors and collects temperature data from the garbage bin. If the temperature inside the garbage exceeds a certain value, it will send an alarm notification to remind management personnel to perform ventilation, humidification, and cooling treatment. If smoke is detected along with a temperature increase, the TG452 will automatically trigger an alarm, reminding staff to handle the garbage to effectively prevent fires.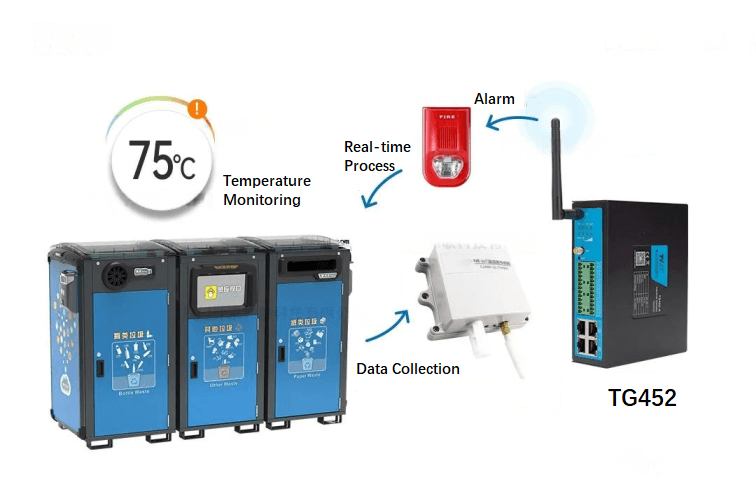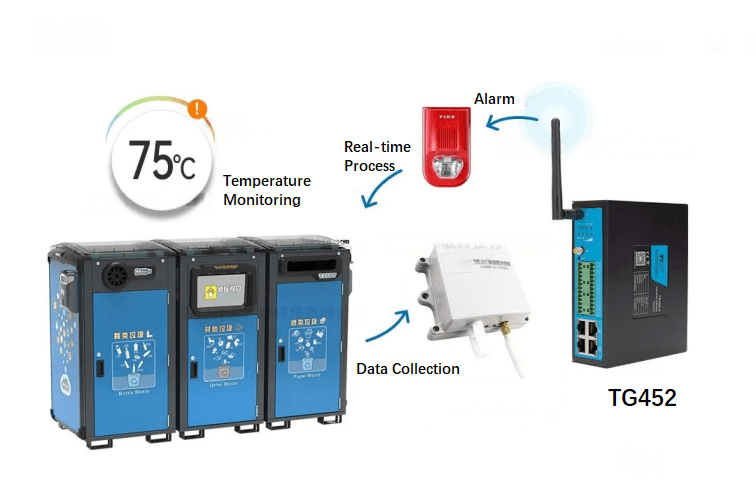 4. LED Scrolling
By integrating with the LED scrolling screen, weather forecasts, regional information, garbage classification notices, advertisements, etc., can be displayed.
     5. Intelligent Recycling
By using the 5G private network and HD camera, this system supports intelligent recycling of various waste types such as paper, metal, plastic, and fabric. Residents can scan the QR code through their mobile phones to open the box and put recyclable items into the box. The recycling box will weigh and price the items, allowing for real-time payment and withdrawal. Residents can view recycling bills, environmental public welfare funds, nearby recyclable points, etc., through smartphone apps.