TR323 Industrial Mini 5G IoT Router
Smaller, faster, more powerful and cost-effective

TR323 Industrial Mini 5G IoT Router
TR323: Industrial Mini 5G IoT Router
1. Compact design with DIN Rail Mounting
2. Global 5G NR, 4G LTE to choose
3. dual SIM for failover
4. 2 RJ45(GbE),1 RS232(Debug), 2 RS485, 2.4G WIFI(Option), GNSS(Option)
5. OpenWRT based Linux OS, Python, C/C++ programmable*
6. Wide operating temperature: 35~+75 C
7. Modbus RTU/TCP, MQTT, JSON, TCP/UDP, OPC UA* and customized industrial protocols 7. VPN, SNMP, BGP, HTTP, Telnet, SSH, CLI, SPI
Note: * requires customized firmware

Overview

Specifications

Case Study

Order Information

Resources
The TR323 is a mini industrial 5G NR IoT router designed for IoT, M2M, and eMBB applications requiring higher speed, lower latency data transmission. It provides OpenWRT based Linux OS embedded environment that allows IoT developers and engineers to program and install their own applications based on Python, C/C++ to the hardware.


The TR323 router has 2 Gigabit ethernet ports, 1 RS232(debug), 2 RS485, to connect to ethernet and serial controllers, sensors, transferring the data to the cloud server via 5G/4G LTE cellular network. It comes with industrial protocols, such as MQTT, Modbus RTU/TCP, JSON, TCP/UDP, OPC UA and VPN to provide you an efficient and secure IoT data connectivity between field devices and cloud server.


The TR323 router supports dual sim for failover, providing robust and reliable wireless and wired connectivity for your mission critical industrial applications, and GNSS to track your remote assets, such as EV charging station, solar power, smart pole, smart cities, smart office, smart buildings, smart traffic light, digital signage advertising, vending machines, ATM, etc. Page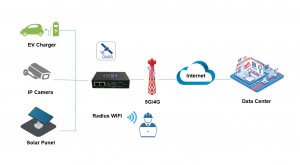 System

● CPU: 32-bit, dual core
● Flash: 32MB
● RAM: 256MB DDR3




Cellular Interfaces


● Antenna Connector: 4 × 50 Ω SMA Female(5G Version TR323-NR)
2 × 50 Ω SMA Female(4G Version TR323-LF)
● SIM Slot: 2 x Micro SIM
● ESD Protection: 15KV




Ethernet Interfaces


● Ports: 2-RJ45 (1-WAN, 1-LAN or 2-LAN configurable)
● Data Rates: 10/100/1000 Mbps (Auto-Sensing), Auto MDI/MDIX
● ESD Protectio: 1.5KV




Serial Interfaces


● Connector Ports: Terminal block, 3.5 mm female socket, 1-RS232(Debug), 2-RS485
● Baud Rate: 300bps to 230400bps
● ESD protection: 8KV for RS232, 15KV for RS485




Wi-Fi(Option)


● Antenna Connector: 1 × 50 Ω RP-SMA Female
● Standard: IEEE 802.11b/g/n, AP and Client modes
● Transmission Rate: IEEE802.11b/g: Up to 54Mbps
IEEE802.11n: Up to 300Mbps
● Securit: Open, WPA, WPA2, WPA/WPA2 Enterprise, Radius




GNSS/GPS (Option)


● Module: GNSS from cellular module
● Antenna Connecto: 1 × 50 Ω SMA Female




Power Supply and Consumption


● Connector: Terminal block, 3.5 mm female socket
● Standard Power: DC 12V/1.5A
● Input Voltage: 5-35 VDC
● Idle Mode: 200~230mA@12VDC
● Working Mode: 360~430mA@12VDC


Software


● Network Protocols: PPP, PPPoE, SNMP v1/v2c/v3, TCP, UDP, DHCP, RIPv1/v2, OSPF, BGP, DNS, DDNS, HTTP, ARP, QoS, SNTP, Telnet, SSH
● Serial Port: MQTT, Transparent (TCP/UDP Client/Server), Modbus RTU/Modbus TCP
● VPN Tunnel: IPsec/PPTP/L2TP/GRE/OpenVPN
● Firewall: ACL/DMZ/Port Mapping/MAC Binding
● Management: Web, CLI, SMS, Cloud DMP (Device Management Platform, license fee required)

● Reliability: Dual SIM, WWAN and WAN failover, Hardware & Software Watchdog ● Secondary Development: OpenWrt based Linux OS, C/C++, Python, LUA and SDK
Note: Only available on customized firmware, and Bivocom only provides environment for developers, but not provides support of programming for C/Python development.




Physical Characteristics


● Ingress Protection: IP30
● Housing & Weight: Metal, 268g(0.59lbs), without accessories
● Dimensions: 103.50x78.20x24.10mm (4.09 x 3.07 x 0.94in)
● Mounting: Desktop, DIN-Rail




Environmental


● Operating Temperature: -35°C to +75°C (-31℉ to +167℉)
● Storage Temperature: -40°C to +80°C (-40℉ to +176℉)
● Relative Humidity: 5% to 95% (non-condensing)
● Ethernet Isolatio: 1.5 kV RMS




Others


● Reset Button: 1
● LED Indicators: System, Online, Power, Alarm
● Built-in: Watchdog, RTC, Timer
● Approvals: CE*, RCM*, FCC*
● Warranty Period: Standard: 12 Months
Extended: 2-5 Years Standard(with additional cost)




Package Content


● TR323 Router: 1PCS
● Power Adapter(DC 12V/1.5A, EU/US/UK/AU plug optional) : 1PCS
● Mag-mount Cellular Antenna (SMA Male, 1 meter, 5dBi) :
5G Version: 4 PCS
4G Version: 2 PCS
● RS232 Cable (DB9 Female, 1 meter) : 1PCS
● Ethernet Cable(1 meter) : 1PCS
● 8-Pin Terminal Block : 1PCS
● DIN-Rail Mount Kits : 1PCS
Note:
1. There are different modules for different regions to choose.
2. Bivocom provides complier and SDK for customers to do their second development, and Python, LUA is a customized firmware.
3. DSSM=dual sim on single module, supports failover.
4. There has a license fee for DMP.
5. * Under progress 6. Price of the extended warranty will be different.
7. If you couldn't find the frequency band for your regions or have any questions, please contact Bivocom sales representatives for more information.
8. To save the earth, Bivocom doesn't print the user guide, if you need it, please go to Bivocom website to download.
Dimensions(103.5x78.2x24.1mm)