Background
The dry season and the increasing usage of electricity, which is the reason of fire hazard. Therefore, fire protection is indispensable. According to preliminary statistics released by China's Emergency Management Department, there were a total of 748,000 reported fires in the country in 2021, a 9.7% increase compared to 2020. Therefore, fire safety work cannot be ignored.
Based on the high randomness, complexity, and unpredictability of fire incidents, Bivocom uses IoT, AI, cloud computing, communication wireless sensing, etc., to independently develop a smart fire safety solution. It establishes connections between Bivocom 5G Gigabit industrial router TG463 and various sensing devices and perceives, identifies, locates, and tracks the status of fire safety facilities, equipment, personnel, etc., and achieves early warning purposes. This enables early detection, early warning, and early extinguishing of fire accidents, which is beneficial to reduce fire risks and impacts to a minimum.
Industry Needs
Firstly, collect, analyze, and process data information comprehensively, bridge the information gaps between different departments and fully grasp the progress of fire safety management business, providing data support for personnel management, business management, and logistical support;
Secondly, build a comprehensive intelligent fire supervision system to improve the decision-making ability and efficiency of firefighting emergency rescue systems;
Thirdly, through comprehensive sensing, real-time warning, and real-time monitoring of various fire safety dynamics in all kinds of places, scientific decisions can be made through accurate data to improve fire safety management capabilities.
System Solution
Bivocom IoT-based fire protection solution integrates 5G Gigabit industrial routers and front-end sensing equipment to achieve real-time monitoring and hidden danger management functions. Sensing equipment includes wireless gas alarms, wireless pressure collectors, wireless manual alarms, temperature alarms, fire alarms, liquid level monitors, smoke detectors, video surveillance, water pressure monitoring, power monitoring, fire door monitoring, and emergency broadcasting, etc.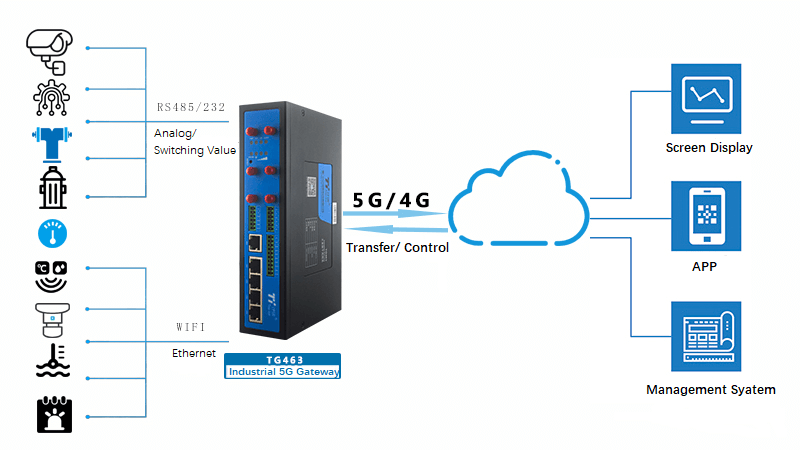 At the same time, with the communication function of the 5G Gigabit industrial router, the collected data is transmitted to Bivocom monitoring center. And relevant fire safety information is issued to mobile phones and PCs through Bivocom cloud platform of smart fire safety management.
Once there is a warning of a fire accident, IoT-based fire protection solution can quickly identify the fire alarm information, send the alarm information to the responsible firefighting personnel in the form of telephone, text message, voice reminder, etc., according to different levels of fire alarms, and also provide alarm services. At the same time, this solution can immediately initiate a smart fire emergency plan, take GPS positioning system linkage video surveillance, access control gates, and notify personnel of evacuation routes through emergency broadcasting by management personnel. This solution helps management personnel quickly respond to the disaster situation, accurately rescue through intelligent means, not only ensuring people's life and property safety, but also effectively reducing fire losses.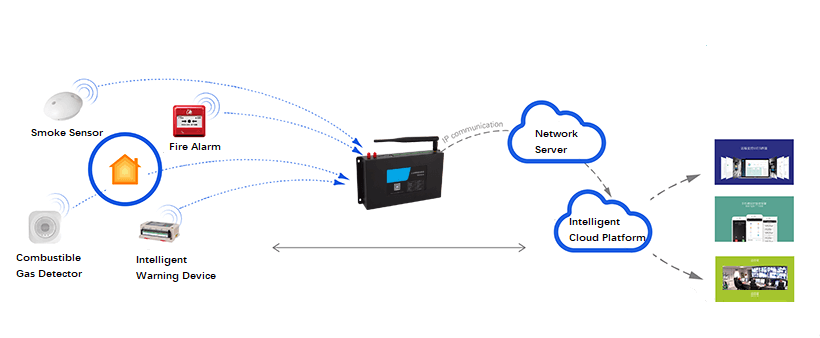 System Functions
Multidimensional Monitoring
Multidimensional monitoring of temperature, smoke, open fire, humidity, water pressure, gas, voltage, current, fire equipment, fire passages, and fire hydrants, reducing fire risks while ensuring personal and property safety, and controlling risks in the bud state.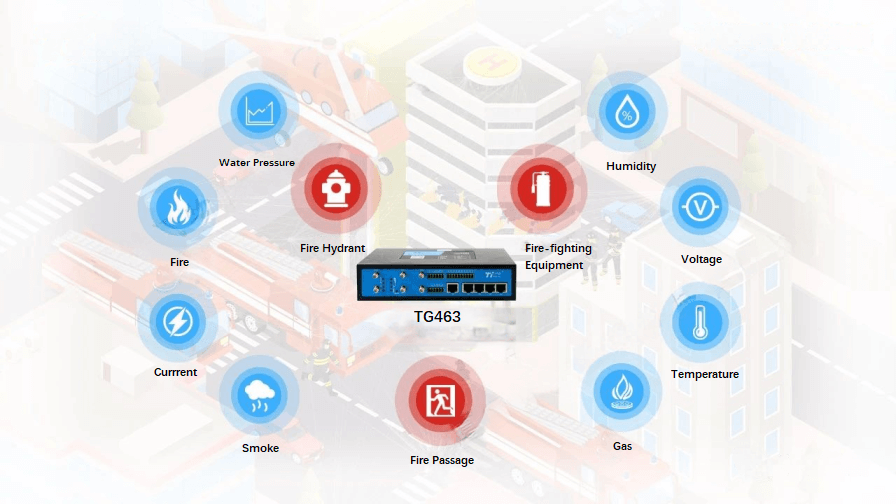 Intelligent Management
This system can real-time record the location and status of current fire facilities and monitoring equipment. Once equipment or system damage is detected, it can be automatically maintained to effectively protect the integrity of fire safety equipment.
One-click Alarm
Equipped with GPS positioning function, it can timely warn and quickly locate the location of disaster victims once a fire is detected, so that firefighting management departments can respond quickly and handle the situation in a timely manner.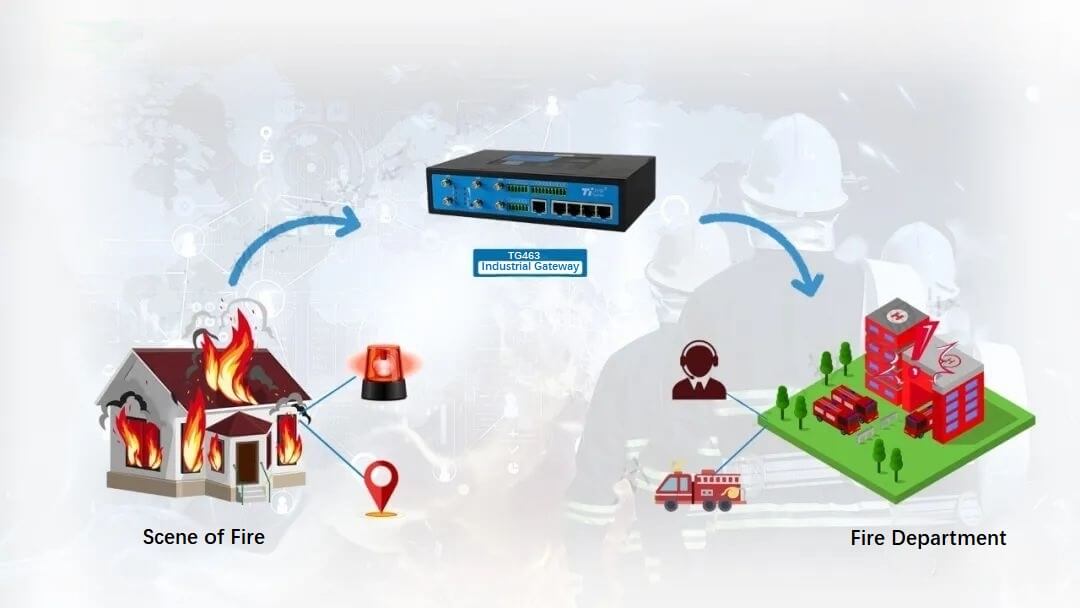 Risk Assessment
By using the Internet of Things, big data, AI intelligent analysis, etc., it realizes real-time and intelligent risk assessment for early prevention, in-process intervention, and post-incident accurate supervision.
Solution Value
Multi-department linkage
Highly integrated data monitoring, one-click alarm, smart management, information release, and other functions to bridge the data barriers between property owners, firefighting regulatory departments, various levels of government, and other enterprises and institutions. It helps various departments to grasp the fire safety situation in real-time while also helping timely notification of warning information to minimize harm.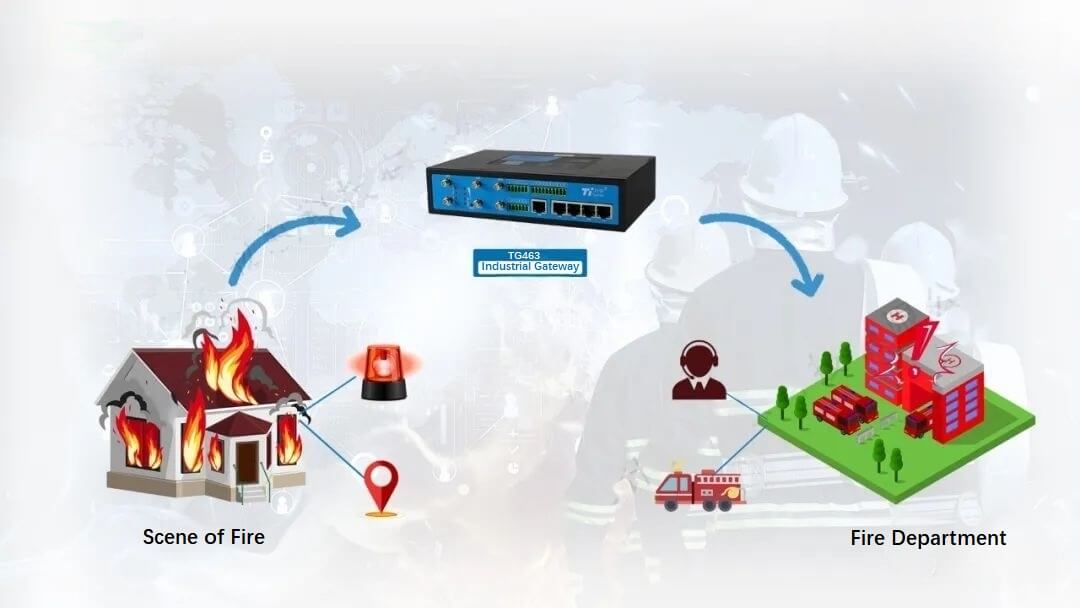 Intelligent prediction
By statistically analyzing fire safety management data, it can roughly predict the trend of recent warnings and the number of fire incidents, providing data support for scientific decision-making by firefighting management departments.
Automated IoT monitoring
With the help of communication technology and IoT technology, combined with video surveillance links scheduling, IoT-based fire protection system monitors key areas of fire safety 24/7 in all directions.