Bivocom's industrial 4G IoT Edge Gateway TG462 has been used for a smart industrial control cabinet for 5G autonomous vehicle project in Xiongan district of Beijing, China, helping the autonomous vehicle solution provider to remote monitor the industrial control cabinet.
1. Background
The industrial control cabinet is one of key infrastructures for this 5G AV project, as there are servers, fiber optics devices, 5G cell stations, radar devices installed inside. In order to ensure the security of the control cabinet, customer is thinking about implementing a solution that they can remote monitor the status of cabinet, such as, is it moved by someone else, has someone open the door, any water intruded to the cabinet?
2. Bivocom TG462
Thanks to the rich I/O of Bivocom TG462, such as, digital input, analog input, relay, serial port RS232, RS485, RJ45 ethernet ports, the system integrator is able to connect to different types of sensors to the gateways, and transfer the data to remote cloud IoT platform.
Global 4G LTE/3G/2G compliant
1-WAN, 1-LAN, USB, 4-RS232, 3-RS485, 1-I2C, 1-TTL, 8-ADC, 4-DI, 4-Relay, 5-Power Output, TF card slot, WIFI(Option), GPS(Option)
OpenWRT based Linux OS, Node-Red, Python/C/C++ programmable
7 inch HD touch screen(TG462S only), up to 32GB local data storage
Wide operating temperature: -35~+75 °C
Modbus RTU/TCP, MQTT, JSON, TCP/UDP and customized industrial protocols
Multiple VPN, SNMP, BGP, HTTP, Telnet, SSH, CLI
Below are some of the sensors installed in the cabinet.
3. Sensors
An inclination sensor measures the angle with respect to a horizontal position of the cabinet.
Water intrusion detector
This is to monitor whether the cabinet is intruded by the water or not.
Temperature and humidity sensor
To monitor the temperature and humidity of cabinet
Magnetic door sensor
To monitor the door open/close status, when someone open the door illegally, it will send alarm to remote site.
Photosensor
To detect the ambient light condition to automatically adjust the light to turn on or off when the operator open the door for maintenance.
4. Diagram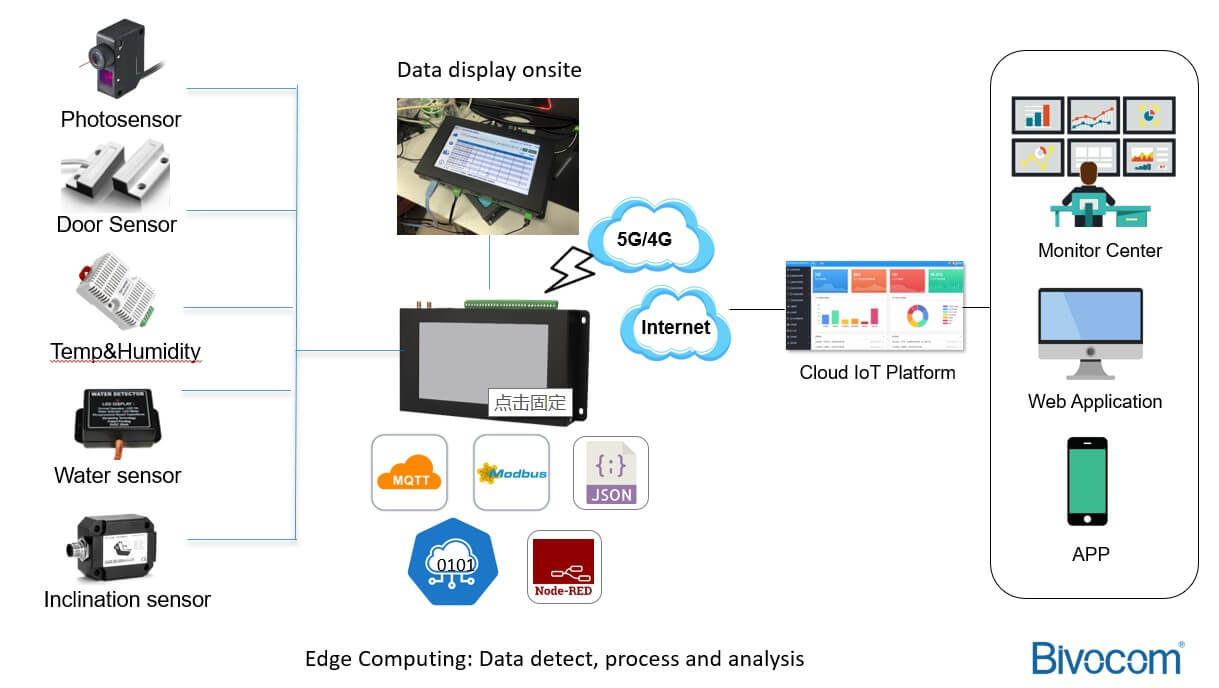 5. Smart Industrial Control Cabinet