Bivocom's Industrial 4G LTE IoT Router TR321-LF and LTE CAT M1/NB-IoT Router TR321-M have been successfully certified with Schneider EasyLogic PM2230 power meter, helping the power company to remotely monitor the usage of current, voltage and power quality analysis.
Application and Diagram
Customer is looking for an industrial cellular router or modem to help them collect the data of Schneider power meter EasyLogic PM2230 in Modbus RTU format, and convert it to MQTT, then transfer the data to remote cloud IoT platform, so they remote monitor the power usage and quality. After a long time and harsh environment testing, they finally chose Bivocom TR321 series IoT router.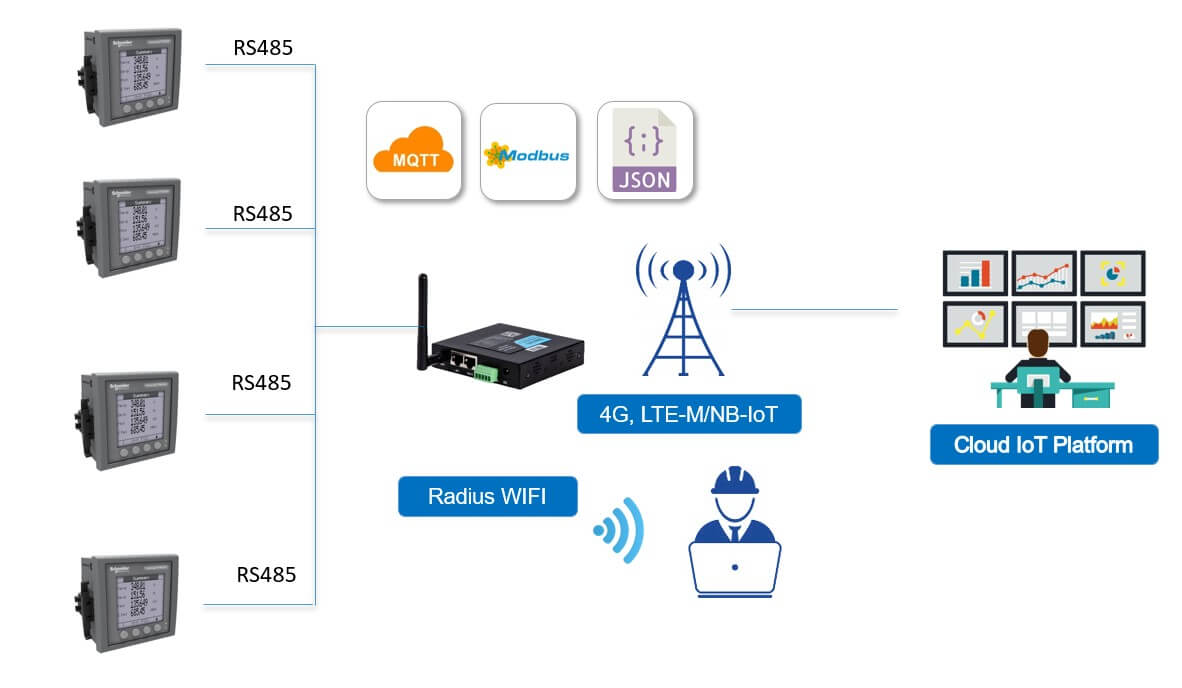 Bivocom Industrial Cellular Router TR321 Series
TR321 is a compact design entry-level IoT router built for industrial applications, such as vending machines, ATM, Kiosk, IP camera, digital signage, EV charging point, water treatment, solar panel power and more.
TR321 provides high speed 4G LTE or dual mode LTE-M/NB-IoT for applications that require different data throughput. TR321 has 2-RJ45, 1-RS232, 1-RS485, and it is perfect for connecting the ethernet IP and serial port devices to cloud via cellular network. Besides, its auto switchover between wireless and wired WAN, multiple VPN features provide robust and secure connectivity for data transmission.
In addition, TR321 is an OpenWRTbased Linux OS industrial IoT router, which provides C/C++, Python programmable embedded environment for IoT developers and programmers to implement their industrial applications in a flexible and fast way.
Feature Highlights
Global 4G LTE, LTE M/NB IoT compliant
1 RS232, 1 RS485, 2 RJ45(10/100M), WIFI(Option)
OpenWRT based Linux OS, Python/C/C++ programmable
Wide operating temperature: 35~+75 C
Failover between wireless and wired WAN
Modbus RTU/TCP, MQTT, JSON, TCP/UDP and
customized industrial protocols
Multiple VPN, SNMP, BGP, HTTP, Telnet, SSH, CLI
Schneider Power Meter EasyLogic PM2230
EasyLogic PM2230 is power meter that comes with RS485, Modbus RTU protocol, used for power monitoring, power quality analysis.