Background
With the development of technologies such as cloud computing, big data, and information networks, network virtualization has attracted increasing attention.
The traditional VLAN technology, which supports only up to 4094 VLANs and cannot span across different data partitions within the same data center or different data centers, is no longer able to keep up with the current trends in IT infrastructure.
VXLAN, on the other hand, serves as an extension to VLAN and allows for the creation of Layer 2 virtual networks based on Layer 3 network structures. It also enables the separation of virtual networks from infrastructures, thereby achieving network reliability and scalability. As a result, more and more enterprises are leveraging the advantages of VXLAN, such as high utilization, low cost, flexibility, and scalability, in their network architectures.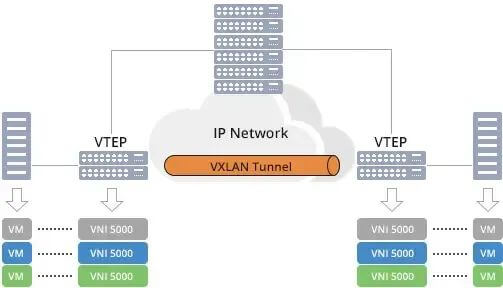 Based on the development of VXLAN, Bivocom focuses on the application of VXLAN technology and integrates advanced technologies such as IoT, AI, and edge computing. VXLAN is applied to flagship version gatewayTG463, mini 5G gateway, dual-port industrial router TR321, and 4G universal router TR341. By building an efficient data center network, it provides technical support for enterprise development.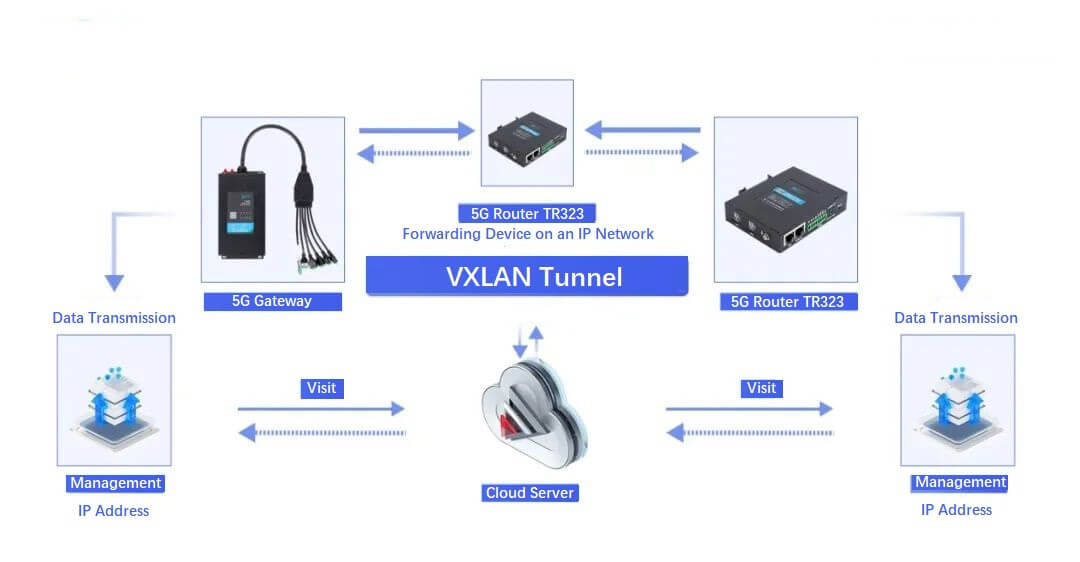 Production Description
Currently, with the rapid expansion of mobile Internet of Things (IoT) application scenarios and industry businesses, the demand for infrastructure, such as networks, hosts, and databases, is to quickly respond to the deployment of upper-layer businesses and reduce cost inputs.
Bivocom Lamp Pole Gateway TG463, mini 5G gateway TG453, dual-port industrial router TR321, 4G router TR34, based on VXLAN technology, which can use a 24-bit VXLAN identifier to identify virtual networks, allowing multiple independent virtual networks to coexist. In addition, the above flagship products also support 5G, 4G, 2.4G/5.8G dual-band WiFi communication, automatically selecting faster frequency bands to provide users with a high-quality network environment.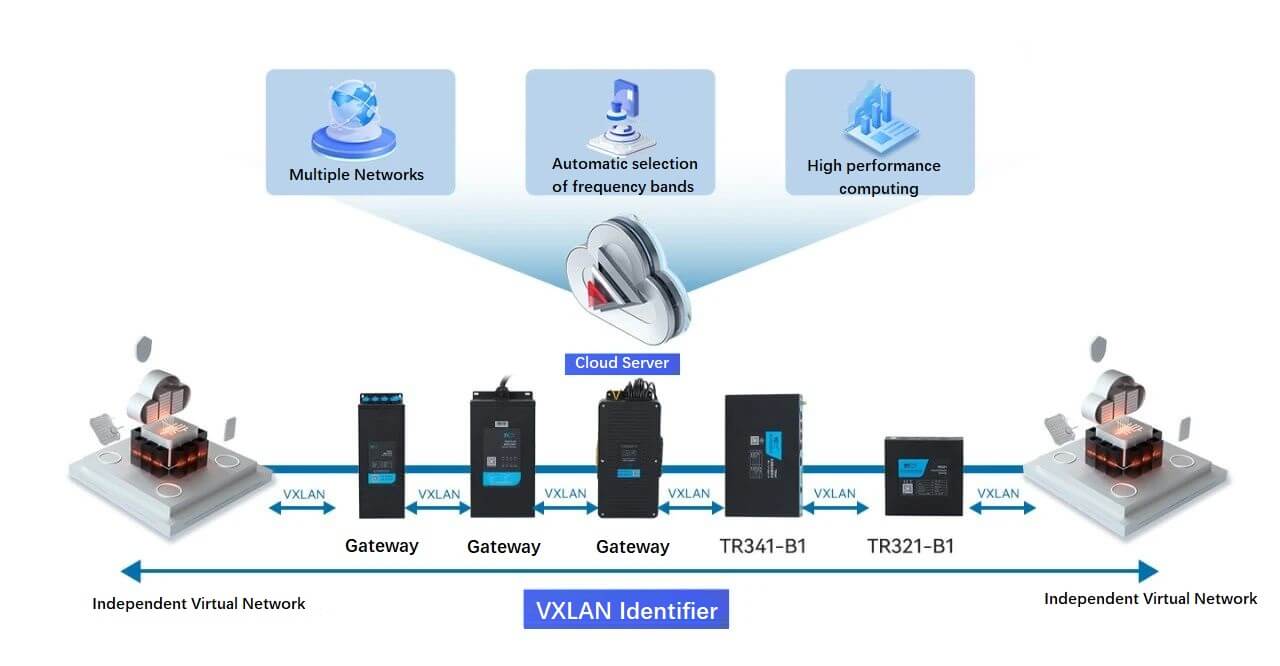 It is worth mentioning that this product features multi-path transmission, which allows for the selection of the optimal path for data transmission based on network load and path availability. This provides high performance and reliability for applications in various industries.
Additionally, the flagship product incorporates VXLAN technology, enabling tunnel encryption to enhance data transmission security through IPsec or VPN. Currently, flagship products such as TG463, TG453, TR321, and TR341 are widely applicable in application scenarios such as smart cities, autonomous driving, drones, mobile medical vehicles, mobile media vehicles, and industrial control applications, etc.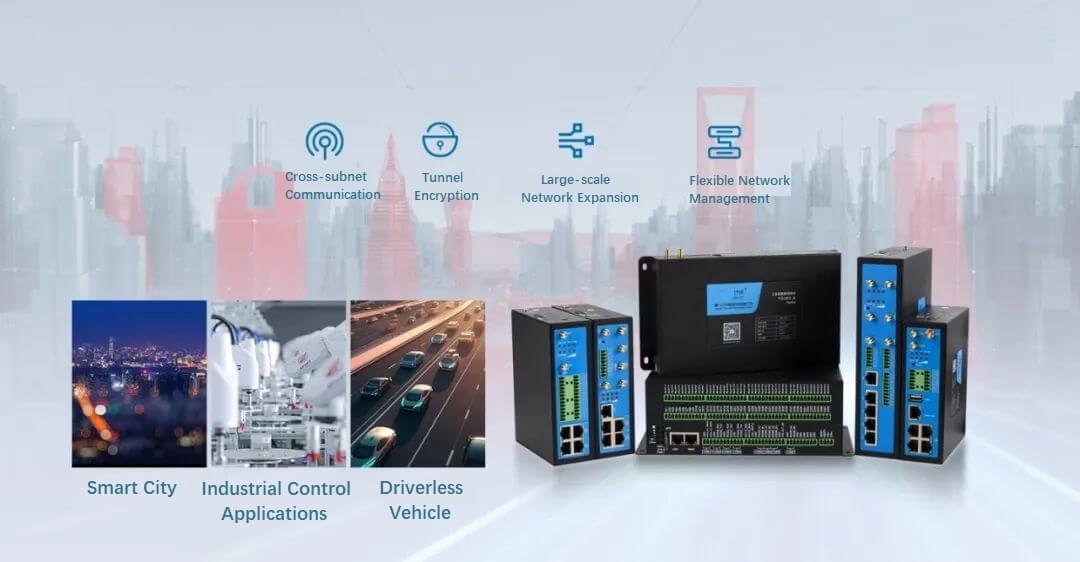 Advantages of VXLAN
1. Based on the application of VXLAN technology, Bivocom flagship product uses a 24-bit VNI (Virtual Network Identifier) to identify virtual networks, supporting over 16 million virtual networks and providing independent layer 2 namespaces to meet the needs of large-scale data centers.
2. Even in environments with changes in network architecture and network devices, Bivocom products can be deployed and run on existing network infrastructure without changing the existing network framework, which promote construction and management of virtual network.
3. Making underlying IP network as the transport medium which enables network virtualization across physical network, and isolates the physical network between different servers. It provides better support for business and data processing.
4. Supporting various networking requirements such as cloud computing, big data, virtualization, and cross-data center, it enables the establishment of virtual network connections across different data centers to achieve resource sharing and business expansion between data centers.
Relevant Articles: