With the rapid development of China's economy and the rapid popularization of automobiles, fully automatic car washing machines become more and more popular with car owners because of their intelligent, fast, and 24-hour service characteristics.
Automatic car washing machine is a high-value automation equipment, discretely distributed in various areas of the city. It has the characteristics of many types of access equipment, many forms of communication interfaces, and many compatible communication protocols. How to effectively and remotely monitor the status of the automatic car washing machine, manage and control the safe and reliable operation of the automatic car washing machines, is a big challenge for the car washing machine operation companies.
Bivocom Solutions
As there are various video, image and data sensors are installed on the car washer, including cameras, temperature sensors, voltage sensors, pressure sensors, speed sensors, displacement sensors, laser sensors, etc. Through the TG462 edge computing gateway of Bivocom Technologies, a remote monitoring system is quickly set up to realize access to car wash sensor data, video images, sound, etc., remote monitoring, abnormal alarms, and equipment linkage greatly improve the efficiency of car wash management.
TG462 edge computing gateway, with rich interfaces, can provide one-stop access to sensors, meters, cameras, and PLC equipment. Interfaces include 1 LAN port, 1 WAN port, 3 RS232 (expandable to 4), 3 RS485 (expandable to 4), 1 SHT, 1 TTL level serial port, 4 digital inputs, 8 analog inputs, 4 relay outputs, 1 USB, etc., with rich acquisition control ports, the implementation is more flexible. 5-channel power output, convenient for sensor and camera to acquire power, greatly reducing deployment difficulty and saving project costs.
Parameters monitored include:
License plate recognition: image collected and transferred through the gateway to the remote server for comparison, judging whether the vehicle is allowed to pass or not, and send commands to the car washing machine to execute the car washing process;
Car washing machine motor running status monitoring: vibration (frequency, amplitude), temperature, current signals;
Monitoring of car washing process: whether the operation logic is correct, car washing time is sufficient, and action is correct;
Alarms of the car washing machine: including the alarm time, the location of the alarm that causes the failure, and the reason of the alarm;
Monitoring of car washing machine fault maintenance information: including maintenance time, maintenance personnel, etc.
Environment monitoring around the car washer, image information is stored locally, and can be uploaded to the cloud platform for emergency use;
Basic information of car washing machine: including manufacturer, production date, running time, type, model, parameters, etc.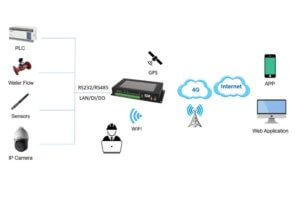 Why Bivocom TG462
In the remote monitoring application of car washing machines, why did customers choose Bivocom TG462 edge computing gateway for on-site data collection, remote transmission and equipment management and control?
Bivocom TG462 edge computing gateway, integrated 4G/WIFI/GPS/wired communication technology, supports wired and wireless backup for each other, ensure the onsite equipment seamless communicate with remote server, and reduce cost of wiring and construction.
Rich interfaces.
Sensors, cameras, and PLC data installed on the car washer can be easily and wirelessly transmitted to the cloud platform through the RS485 / RS232 / IO interfaces of the TG462 edge computing gateway, which supports 3xLAN, 1xWLAN, TF card, 2 × RS232, 3xRS485, 2xADC, 2xDI, 1xCAN (optional), 2xrelay (optional), WIFI function (optional),  GPS function (optional), dual sim and dual module for failover and load balance(optional).
Bivocom TG462 edge computing gateway integrates MODBUS, OPC*, MQTT and other protocols to quickly realize data collect, store and process. Bivocom TG462 edge computing gateway can be integrated with third-party cloud platforms such as Alibaba Cloud, Baidu Cloud, Huawei Cloud, etc., and it is convenient for the automatic car washing machine equipment to go to the cloud.
Bivocom TG462 edge computing gateway, with multi-center transmission function, can support up to 10 centers to report data, each reporting center can support different communication protocols. It is convenient for on-site operators of car washing machines, local management departments, operation and maintenance management companies, car washing machine manufacturers and other cooperative units to obtain data simultaneously to achieve efficient management.
ARM based industrial CPU, powerful edge computing capabilities, effectively sharing the bandwidth of connectivity to the cloud; Linux system, integrated Python development environment and C language development environment, providing standard API interface, convenient for secondary development and application of the project.