Technologies have changed our world so quickly, so has itself!
As we all know, 2G/3G have been serving us for decades, thanks to this wireless technology and IoT technology, our world has become more connected and smarter-business owners can use the technology to remotely publish their advertisement via LED display, power companies are able to remotely monitor their substation and power meter, banks have expanded their branches and ATM using cellular routers, etc.
While as the 2G/3G technology is aging, it has to be replaced with newer and modern technology. Today, we're going to show you some solutions to get your IoT equipment upgraded prior to 2G/3G sunset, to ensure your legacy IoT solutions smooth transition to newer technology.
Before this, do you know why the global mobile network operators are going to shut down their 2G/3G network in schedule?
Why shut down 2G/3G?
This article may help you to know more.
Time frame of switch off 2G/3G
Although carriers in different countries have their own plan to shut down the 2G/3G, most of them will do that within this decade, let's take a look at some countries and carriers below
Australia
Telstra plans to shut down its 3G network by June, 2024
https://www.telstra.com.au/business-enterprise/support/3g-service-closure
USA
AT&T has phased out its 3G network by Feb, 2022.
https://www.att.com/support/article/wireless/KM1324171/
UK
Vodafone is switching off 3G in 2023
https://www.vodafone.co.uk/help-and-information/3g-switch-off
Germany
Deutsche Telekom has shut down its 3G in June 2021
https://www.telekom.com/en/media/media-information/archive/bye-bye-3g-now-lte-is-coming-for-everyone-608220
You can check this link to learn more about other carriers' plans of 3G shut down in Europe.
https://blog.telegeography.com/3gs-sun-is-setting-in-europe
Time to get your legacy IoT solutions upgraded by right choice
If your IoT solutions were using 3G/2G modems, routers, or gateways, it's time to think about when to upgrade your legacy IoT solutions to newer and better technology before your 3G/2G network shutdown. While you may wonder what solutions to choose to replace the legacy modems, routers and gateways, below are some solutions you can consider, and this article may help to choose the right solutions.
LTE CAT M1/NB-IoT
LTE CAT 1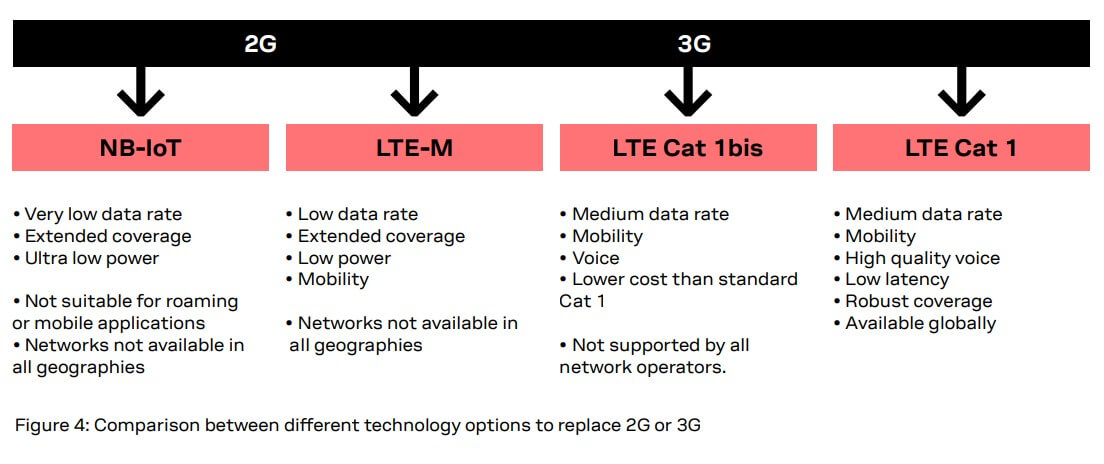 Image source: U-blox
Bivocom Solutions
An industrial serial modem, supports both LTE-M/NB-IoT, back supports EDGE/GPRS, with industrial protocols such as, Modbus RTU, TCP/UDP, and RS232, RS485, a great solution to upgrade your legacy 2G modem.
It has built-in MCU, reliable and stable, has choice of LTE CAT 1 or CAT 4, with MQTT, Modbus RTU protocols, RS232, RS485, which is a good choice for replacing 3G/2G serial modems.
Openwrt powered Linux OS IoT router, with option of LTE CAT M1/NB-IoT, or LTE CAT 1, CAT 4, with ethernet ports, serial ports RS232, RS485, and Modbus RTU/TCP, MQTT, VPN, has been widely used for different IoT applications, such as EV charger, LED display advertisement, power meter reading, IP camera, etc.