Bivocom has helped ensure a safe school zone in US by providing its robust and customized cellular modems TD210 to a school zone flasher system manufacturer, bringing stable M2M connectivity to their intelligent traffic system.
Background
Flasher system has been widely used in school zone to ensure a safe and efficient way for students and drivers to get to where they need to be. An industry leader of intelligent traffic system manufacturer in US was looking for an industrial 4G modem with RS232 to replace their legacy 3G modem due to the end of 3G service from AT&T, Verizon, T-mobile, etc. In addition, the manufacturer was also requiring a customized firmware to meet their remote diagnosis and control needs. After more than 1-year field testing, Bivocom 4G serial modem TD210's high quality and customized features finally won customer's trust, and was added to their intelligent flasher system for school zone.
System Diagram
The intelligent flasher system for school zone includes solar panel/AC power supply, LED signs, battery, control panel, time switch, M2M modem TD210, and centralized platform to monitor and manage the system remotely.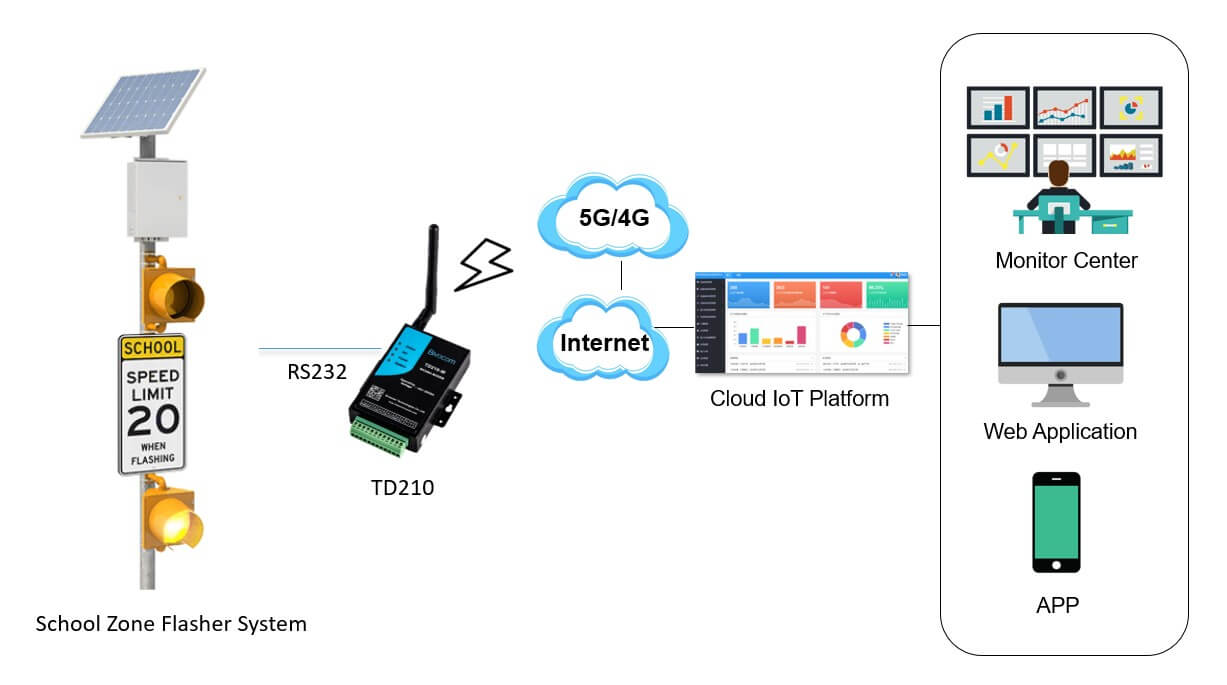 Benefits of Using M2M Modem TD210
Establish a robust and stable M2M connectivity between field system and remote platform
Solar voltage, AC supply, battery and cabinet door can be remotely monitored
Scheduled program can be downloaded to time switch remotely
Alerts can be sent to users via text or email from platform
Remote diagnosis of modems via SMS commands
Related links
1. IoT Technology Empowers Mobile VMS
2. 5G/4G LTE Wireless Digital Signage Solution